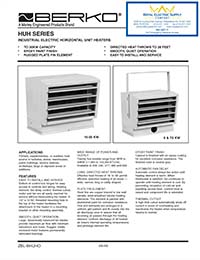 Auxiliary, supplementary or primary heat source in factories, stores, garages, basements, warehouses, public buildings, service stations, stockrooms, offices, workshops, toll booths, closing offices, large or exposed areas or additions.
All motors and contactor coils are 240 volt and operate on the secondary of a factory-installed step-down power transformer on 480 and 600 volt heaters so a separate fan and motor control power source is not needed.
Steel fins are copper brazed to low watt density, steel-sheathed tubular heating elements. Fins and elements are arranged in a uniform grid pattern and fit closely into the air discharge area to assure that all incoming air passes through the heating element. Element is finished with aluminized paint for corrosion resistance. Uniform discharge of all heated air lowers internal operating temperatures and prolongs element life.
A high-limit cutout automatically shuts off current in the event of overheating and reactivates the heater when temperature returns to normal.
5KW and 7.5KW heaters can be used in horizontal or vertical position. Heaters come equipped with ceiling mounting bracket for horizontal or vertical flow mounting or any position in between.
Cabinet is finished with a polyester powder coating for excellent corrosion resistance. The finished color is neutral grey.
Automatic control delays fan action until heating element is warm. When thermostat is satisfied, fan continues to operate until heating element is cool. By preventing circulation of cold air and expelling excess heat, comfort level is raised and component life is extended.
Download More Information Here