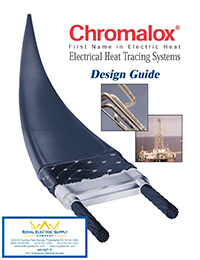 Chromalox SRL, SRP and SRM/E Self Regulating Heating Cables provide the most versatility in heat trace designs and applications. Constructed of a semiconductive heater matrix extruded between parallel buss wires, a self- regulating cable adjusts its output to independently respond to temperatures all along its length. As temperatures increase, the heater's resistance increases which lowers the output wattage. Conversely, as the temperature decreases, the resistance decreases and the cable produces more heat. The result: an energy efficient heating cable.
Self-regulating cables are flexible, can be cut-to-length in the field and can be overlapped without fear of burnout in areas where complex piping and equipment require additional heat trace cable. Chromalox manufactures low (SRL) Process (SRP) and medium (SRM/E) temperature self-regulating heating cable for use on 120 and 208 to 277V.
Equipped with a ground braid and optional TPR or FEP jacket, Chromalox self-regulating cables are third party tested and approved for use in harsh corrosive and hazardous applications.
Download More Information Here