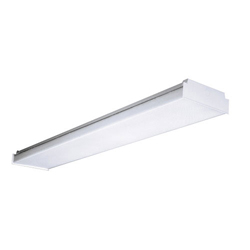 Columbia Lighting is proud to announce a new LED product: LAW. When combined with the recent launch of LJT LED Troffer, Columbia Lighting now offers LED troffers, strips, and wraps specifically designed for the commercial market. The LAW is a great choice for lighting back-of-house areas, utility spaces, closets, restrooms, stairwells, and low ceiling applications.
Long life 50,000 LED at L80 virtually eliminates maintenance. It can be surface mounted or suspended and offers 2' and 4' sizes, choice of lumen packages and four color temperatures. This handy wrap is an excellent choice for hallways, closets, utility rooms, back-of-house locations and low ceiling areas. With DesignLights™ Consortium qualification, LAW meets many of the utility rebates available in the market.
Long-life 50,000 hour LED at L70 lumen maintenance
Choice of two color temperatures
Choice of lumen packages for each size
Fixed light output, step-dimming, or 0-10V dimming
Integral 1400 lumen battery pack option
Surface mount or suspended
DesignLights Consortium® (DLC) qualification pending
LAW is available in 2′ or 4′ lengths. Both sizes offer either 2,400 or 4,400 lumens.
Download More Information Here