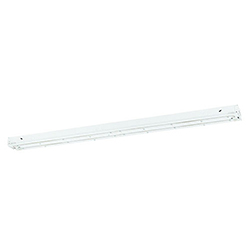 Columbia Lighting is proud to announce a new LED product: LCS. When combined with the recent launch of LJT LED Troffer, Columbia Lighting now offers LED troffers, strips, and wraps specifically designed for the commercial market. The LCS is a great choices for lighting back-of-house areas, utility spaces, closets, restrooms, stairwells, and low ceiling applications.
LCS is available in 4′ and 8′ lengths offering lumen packages ranging from 2,500 to 20,100. The LCS offers 50,000 hours at L80 lumen maintenance for many years of dependable service. An optional wireguard can be added.
Long life 60,000 hour LEDs at L80 for reduced maintenance
Choice of four LED color temperatures and 80+ CRI
Choice of four lumen packages
Available in 2', 4' and 8' lengths
Heavy die-formed steel channel
LED boards and driver accessible for future maintenance or upgrades
Modular replaceable LED components
Surface mount or suspended
DesignLights Consortium® (DLC) qualified; see www.designlights.org
5 year warranty
Download More Information Here

Want some more information on this product? Click the button below and one of our dedicated Electrical Advisors will get back to you promptly with the specs you need.