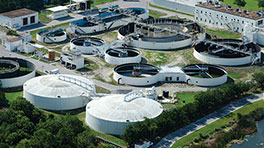 Eaton's continues to improve water and wastewater infrastructures so they become more reliable, efficient and safe.
Recently, Eaton introduced a cost-effective solution to handle sags that result in the loss of UV treatment systems. The use of sag ride through (SRT) allows facilities to improve the overall percentage of water they are fully treating, thus boosting efficiency.
PowerChainE solutions help enterprises achieve a competitive and sustainable advantage through proactive management of the power system as a strategic, integrated asset throughout its life cycle. With Eaton's distribution, control and automation, power quality equipment and full-scale engineering services and information-management systems, the power system is positioned to deliver powerful results.
Download More Information Here