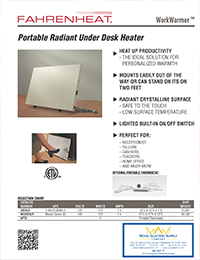 202SL – The thin, lightweight WorkWarmer™ Desk Heater
turns any workstation into a personal comfort zone.
This 120 volt, slim, off-white panel is designed to fit out of the way standing on it's own or mounted under a desk.
An ideal, commercial, safe way to provide warmth for cold secretaries, bank tellers, receptionists, cashiers, accountants, architects, engineers – in fact, anyone who sits at a desk, counter or table whether at work or at home! The 200 Series gives you personalized warmth just where it's needed – when it's needed. This amazing heater costs just one or two cents per hour to operate…based on your local electricity rate.
One central thermostat setting is not going to please all of the people all of the time. These thin, lightweight wonders warm people and objects directly without having to heat the air in between. WorkWarmer™ gently warms the desk area to the temperature that's most comfortable to the user.
Download More Information Here