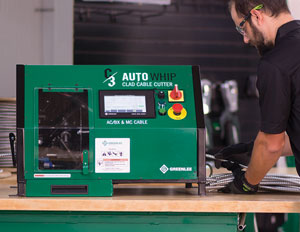 Quick and Effortless. The Cable Cutter for Today's Needs.
Speed and safety do not often go hand in hand, but Greenlee's C3 Auto Whip Clad Cable Cutter provides a safer solution that increases efficiency. While cutting armored cable has often been a dangerous, labor-intensive process, the C3 Auto Whip is fully enclosed to prevent accidents and injuries. And the device's precision programmable controls make it easy for users to cut armored cable with repeatable accuracy. The C3 Auto Whip's careful design is configured for lockout/tagout to ensure that the machine is de-energized during blade changes, and a Lexan polycarbonate shield allows the user to safely oversee the cutting process.
Don't allow your cable cutting to lag behind in the previous century. The C3 Auto Whip is built for modern users, with a USB port to upload custom whip configurations. With an intuitive touch-screen interface, changing between configurations is fast and simple. Of course, workplace safety is a company's number one priority, and Greenlee rises to the challenge with a product that is dramatically safer than previous cutting solutions. No more unwieldy exposed saws – the C3 Auto Whip Clad Cable Cutter keeps the operator safely protected from any dangerous machinery. Relax and let the C3 Auto Whip do the work for you!
Features at a Glance
Fully-enclosed machine case prevents risk of injury
Quick and easy set-up and walk-away for faster use
Touchscreen interface is easy to use and easy to program
Use USB port to upload custom whip configurations
Effortlessly change between whip configurations

Download More Information Here