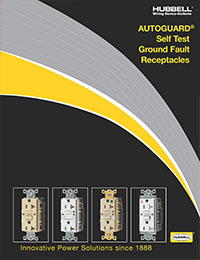 Patented AUTOGUARD® Technology Continuously and Efficiently self tests functionality of GFCI.
Disconnects Power to Receptacle if GFCI Protection is Lost for Added Safety.
Hubbell Autoguard® Ground Fault Receptacles (GFR) continually test and monitor for "people protection capability" automatically. This patented safety feature includes disconnecting power to the receptacle if critical components are damaged and GFCI protection is lost. GFCI automonitoring is conducted continuously within every 60 seconds.
Download More Information Here