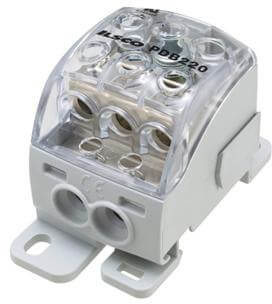 ILSCO continues to build on its reputation as an industry innovator and are pleased to introduce the next generation of touch safe power distribution blocks!
The step shape design of the copper alloy block affords the user the ability to install in confined spaces. The transparent cover provides IP20 touch safe protection as well as aids in visual inspection. The cover design incorporates dovetail tabs for nesting connectors together to create multiple configurations. The connectors can be DIN-rail or panel mounted for application versatility and have a high short circuit current rating of 100kA or 200kA RMS SYM Amps. Suitable for use with copper conductor.
IP20 touch safe protection
Transparent cover included
Compact size
High Short Circuit Rated (SCCR)
Manufactured from high strength copper alloy
Electro nickel and tin plated
Surface or DIN rail mountable
Jumper option for PDB-160 and 210
Minimizes risk of electrical shock
Aids visual inspection
Ideal for use in confined space
Added protection
Suitable for use with copper or aluminum conductor
Provides low contact resistance
Easily mounts into new or existing enclosure
Connects two or three PDB's, eliminates need for multiple wire inputs
Download More Information Here

Want some more information on this product? Click the button below and one of our dedicated Electrical Advisors will get back to you promptly with the specs you need.