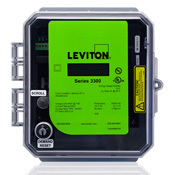 VerifEye™ Submetering Solutions for Accurate Measurement and Verification
Organizations can monitor, control, and manage energy usage through submetering strategies, which track energy usage and power consumption for individual tenants, departments, and pieces of equipment or other loads to account for their actual energy usage.
Ideal for tenant billing and real-time energy monitoring applications, Leviton VerifEye™ delivers comprehensive submetering solutions for revenue grade measurement. Submetering expertise, service, and support from start to finish from a name you can trust.
Easily measure power consumption with VerifEye™ Submetering Solutions:
Identify how energy is used in order to implement energy saving programs
Receive accurate detail of energy use and demand from a specific circuit or a specific area to a complete building or complex
Discover energy saving opportunities with energy cost center analysis, budgetary accountability and precise cost allocation
Most cost-effective tool to gain LEED points and achieve green building initiatives
Comply with local and national energy codes including Title 24 load disaggregation and City of Seattle/New York Local Law 88 ordinances
For use in retrofits and new construction from multi-tenant to industrial applications, VerifEye Submetering Solutions provide information that can result in long-term cost savings of 15% to 20% by delivering accurate energy tracking for:
Load profiling and benchmarking
Measurement & verification (M&V)
Tenant billing/cost allocation
Energy conservation and cost reduction
Green building initiatives and government mandates
AMR/BAS/BMS/EMS integration
Download More Information Here