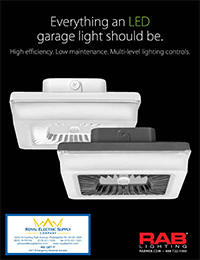 here is no denying the importance of having adequate lighting in a garage or workshop area. With the LED PORTO garage light from RAB Lighting, get the reliable performance you need with the clear, crisp illumination you need for improved visibility.
What Is It?
It is a high-efficiency garage lighting solution with LED technology that can replace standard 70 to 175-watt metal halide fixtures. It is UL rated and DLC listed making in acceptable for wet locations without worry.
What Are the Features?
This high-performing light fixture features the hallmarks of quality and performance consumers have come to expect from RAB Lighting solutions. It can be pendant or surface mounted, depending on your ceiling and needs. As one of the highest efficiency lights on the market, this reliable light is IP66 rated, in addition to the wet listed specification, which means it is guaranteed to keep out water, dirt, dust, and other debris that can greatly impact the life and performance of a fixture. It features high-temperature silicone gaskets to ensure a clean and well-protected fixture. Available in your choice of 30, 42, ad 55 watts, this fixture offers impressive lumen outputs of around 118 lumens per watt which will help with utility costs over time without sacrificing on quality light output. In fact, the design of this reliable light offers a 20% uplight element to offer evenly disbursed illumination and eliminate shadows. In addition, the low glare polycarbonate lens is designed to reduce glare, as well as being vandal-resistant for added peace of mind. From the die-cast aluminum housing to the durable powered coated finish for impact resistance, this fixture is designed to be long-lasting and tough enough to handle the elements without damage. The LED technology is also a big draw with this model. The average life rating is 100,000 hours which is on the higher end for LEDs. LED lights offer a bright and even tone that is never harsh, but still powerful enough to illuminate hard to reach spots.
When you need a durable lighting solution that can stand up to the elements, this is a great option that has been created specifically for rough, rugged locations. It has the dependable performance of LED coupled with a high-quality housing which makes it a great investment for your location.
Download More Information Here