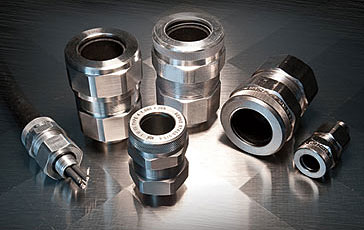 Harness the Money-Saving Power of Remke's PowR-Teck™ MC Cable Connectors.
Our PowR-Teck MC Cable Connectors feature an exclusive PowR-Lock™ one-piece design. No disassembly required – just push the cable through, tighten the connectors and you're done.
PowR-Teck connectors are designed to form a watertight seal around the jacketed metal cable and at the enclosure entry. Rated NEMA 4 and IP 65, these connectors are in-stock in ½" to 4" hub sizes in aluminum, nickel-plated aluminum and stainless steel.
Design features of PowR-Teck connectors:
One-Piece Compact Design
Unique PowR-Lock Grounding Seal for superior conductivity
No Disassembly Required for easy & fast installations
Neoprene bushing provides superior pull-out & sealing protection
Embedded Viton® O-Ring
Why Use MC Cable? Using MC Cable can save you of upwards of 50% on total installation cost vs. traditional pipe & wire. Some additional benefits of using MC Cable include:
Fewer parts as MC Cable is preassembled & flexible
No more bending conduit saves time along with the equipment and capital expense which means saving money
MC Cable can be installed right off the reel meaning fewer tools, equipment & laborers required
Download More Information Here