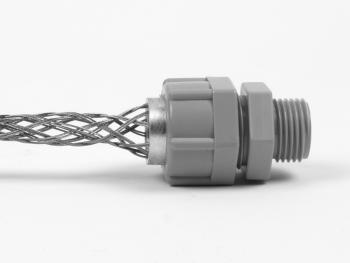 Non-Metallic, Valox Cable Connectors Deliver Superior Corrosion-Resistance and Environmental Protection
Cord Grips made of Valox® are cutting-edge, non-metallic connectors with excellent heat, chemical and corrosion resistance. This material provides high mechanical, thermal and electrical properties for stability and reliability.
Optional wire mesh grip can be added for strain relief protection against bending, flexing and vertical cable runs.
Valox Cord Grips are Approved for FDA-Washdowns & Ideal for Many Harsh Environments
Rated for IP and NEMA compliance, Remke Valox cord grips are ideal for applications that require an environmental seal against dirt, dust, moisture, fumes and chemicals.
They are approved for FDA-washdowns and are also commonly used in:
Automation
OEM
Maintenance and Repair Operations
Food processing
Wastewater treatment
Petro chemical
Marine and shipboard
Pulp and paper processing
Download More Information Here

Want some more information on this product? Click the button below and one of our dedicated Electrical Advisors will get back to you promptly with the specs you need.