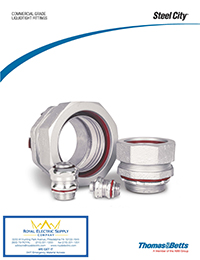 Available in Steel, Stainless Steel, Aluminum and High Temperature.
T&B® Liquidtight Fittings for flexible conduits are suitable for a wide range of installations. Their Liquidtight fittings are designed to stand up to demanding wet and corrosive environments, including power generation, petrochemical, paper mills, food, beverage, pharmaceutical plants and anywhere high performance is required.
No Moisture Pooling: The distinctive pumpkin-like appearance and unique gland nut on T&B Liquidtight fittings deflects water away from the connector and prevents pooling.
Double-Beveled Sealing: T&B Liquidtight's unique sealing mechanisms, made from high-temperature rated thermoplastic in a distinctive blue coloring, can't be installed backwards — error-free installation designed in.
Infinitely Adjustable: Save time and money with revolver grounding fittings that use an infinitely adjustable rotating ground lug.
Download More Information Here